Back to Projects
2011 Alaskan Camper on a Ford F-350 Diesel
Converted Rear Seat Area to Power Bay + Kitchen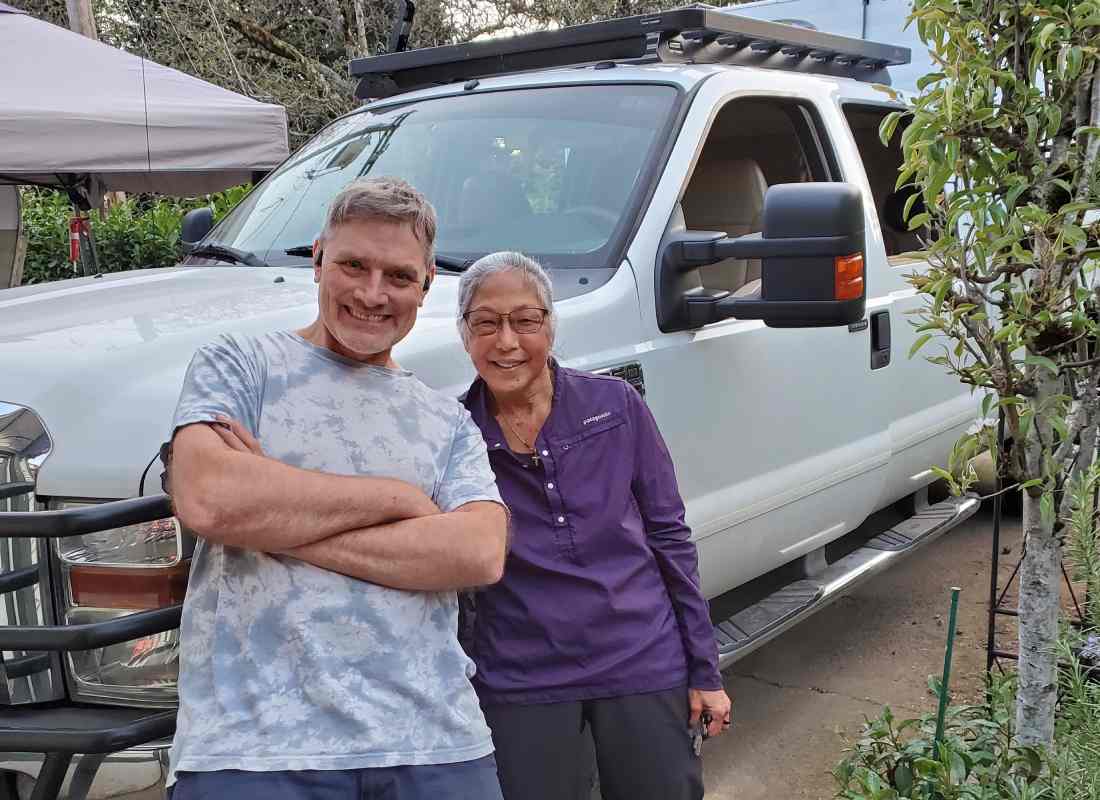 Gallery: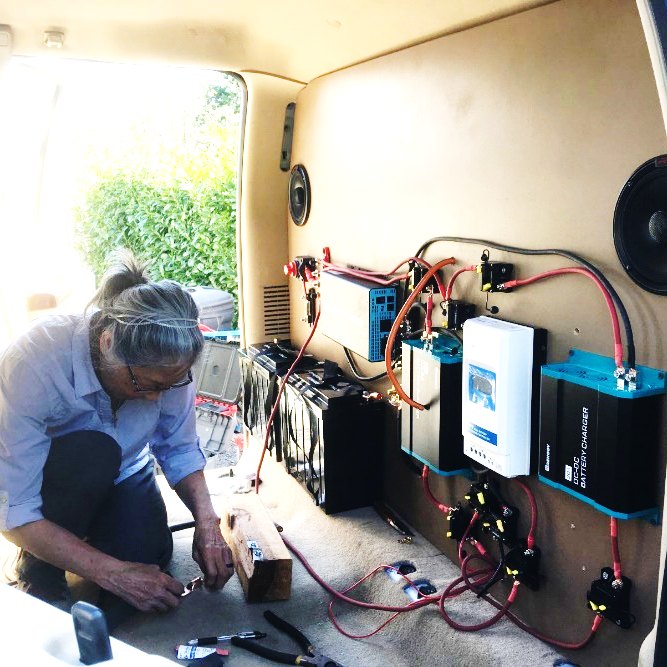 Client Wanted
Solar power system with alternator charging, with both truck cab and camper integrated into a seamless unit for off-grid living and extensive travel
Existing System
Plug-in camper electrical with standard AGM battery for DC power when off grid
Truck provides typical 7-pin charging
What We Did
Designed and installed system; together with client's help we removed the back seat and fabricated a new platform for the batteries and kitchen area with chest style refrigerator
Mounted four Zamp roof panels on the camper, wire run to the cab
Assembled new power system including Renogy 2000-watt inverter, dual bank-charge controller, two DC-to-DC charging systems (one for the main bank, one for the backup), two Renogy 12-volt 206 Ah batteries in parallel, and all required cabling, breakers and fuses
Ran the alternator charging cables back to the camper using Anderson connectors and added a transfer switch to toggle between the main and back-up banks when needed
Main Components
Renogy 2000-watt inverter, Epever, dual charge controller, 4 x 100-watt Zamp Obsidian panels, manual changeover switch, 2 x Renogy DC-to-DC chargers, 2 x Renogy 12-volt 206 Ah, lithium batteries and one Volt Xcell 12-volt, 100 Ah battery for inside the camper
Todd helped us design & build the perfect solar solution for our truck camper. He recommended the ideal light-weight solar panels for the top, attached the panels & created a wire-management solution that avoided drilling into the roof, integrated wiring with the existing camper system that created "shore power" access from our battery bank, allowing us to run our AC & 110 outlets while boondocking & made a solar control panel for the truck cab that is both beautiful to look at & easy to detach for quick access to the hidden wires should that be necessary. The list goes on! He designed an elegant yet simple solar system for us, with attention to cost & functionality.

Todd is unique among technical service providers. Not only is he knowledgeable, professional & a genuinely "good guy" (integrity off the charts!), his problem-solving skills are exceptional. This is critical in the relatively new field of solar applications where "plug & play" rarely happens. Manuals are incomplete (& sometimes incorrect!), instructions translating from a foreign language can be difficult to understand, products don't match up to expected specs, etc. (We personally suffered through these issues prior to being delivered into Todd's competent hands!) Todd's capacity to pursue solutions & fixes is amazing!

But his passion is helping clients, who so choose, to understand how their system works so they can manage it on their own, on the road. He literally taught us (& let us help) to run, splice, & heat-shrink wires; install circuit breakers; read monitors; etc., etc. We can attest to his patience & capacity to explain clearly to the ignorant! We learned so much in the process & have much greater confidence in our ability to operate our solar system. But Todd has been available & more than willing to answer questions & offer help well beyond project completion. Obviously, we are eager & honored to wholeheartedly recommend Todd for your solar installation needs! It's a decision you won't regret.
—Bobbi + Tom
Back to Projects